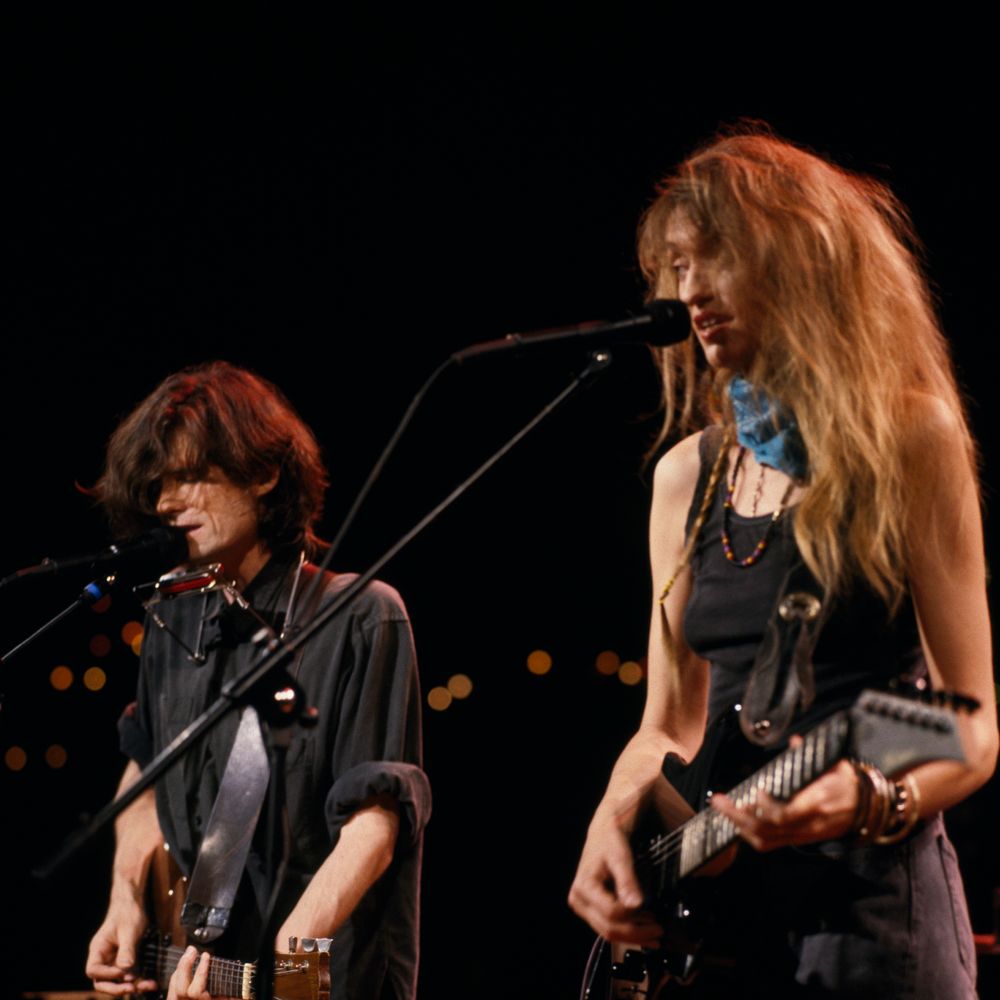 Critics bowed at the feet of Beck when, in the mid-'90s, he was able to successfully fuse elements of such disparate genres as funk, folk, and retro-rock. Few remembered that several years earlier, husband-and-wife duo Timbuk3 had brought a similar (if more homespun) eclecticism to alternative rock with their programmed drums, willfully clunky rhythms, and lyrics clever enough to rival those of the best singer/songwriters.
Kenneth Bays - All Music Guide
TIMBUK3, best known for their hit song "The Future's So Bright I Gotta Wear Shades," enjoyed Top 40 radio success, resulting in multi-album recording contracts, television appearances, magazine features and International touring.

In 1987, TIMBUK3 received a Grammy nomination for Best New Artist. Their unforgettable video was nominated for MTV`s Best New Artist Video. Television appearances included Saturday Night Live, Late Night With Conan Obrien, Austin City Limits, MTV and Solid Gold, among others.

Besides headlining their own shows around the world, TIMBUK3 opened for Bob Dylan, Sting, Bonnie Rait, Jackson Browne, James Brown and others. Commander William Walker of NASA's space shuttle Endeavor played Timbuk3's music in outer space - the highest rotation an earth-bound artist can achieve.

Timbuk3 disbanded in 1996. Six years later they were inducted into the Texas Music Hall of Fame.

Excerpt From Innerviews - A Chat With pat
Fresh horizons - by Anil Prasad
© Copyright 2004 by Anil Prasad. All rights reserved.

Describe the circumstances surrounding Timbuk3's break-up.
I felt really trapped in the band and the expectations of what people wanted the band to be, both in and outside of it. I was writing different kinds of songs that didn't really fit the band or weren't embraced by it, because Timbuk3, whatever phase we were in, was always about pretty upbeat music.
I look at it as different drugs. Although I've never done this drug before, I sort of relate what I was doing to heroin and what Timbuk3 wanted to do as cocaine and speed. The drugs were incompatible at that point in time. This is not to say that Timbuk3 were a bunch of coke abusers. [laughs] Actually, Timbuk3 had a rule from the beginning which was we wouldn't use alcohol or any drugs when we went on stage or even the day of or the day before. Barbara and I wouldn't even have sex the night before or the day of a gig. We really saved every ounce of energy and passion for the music. It's not that every musician we ever played with didn't partake of something now and then, but Barbara and I had a real strong rule of no mind-altering substances the day of a gig. There were a lot of gigs, so we were pretty clean in that sense. But I'll tell you that on the last Timbuk3 tour we did, I drank a lot
I felt I needed to drink to be up for the gig because I didn't feel like we were doing anything new. I wanted to do all these new songs I had written, but couldn't do them. Barbara and I would fight and I was a ball of nerves about it all. I felt the odd man out in that band at the time. We had not just Barbara, but other musicians in the band too and we tried to make it as democratic as possible, but that didn't make it satisfying for me. We wanted everyone to be happy and in the end, nobody was happy. I think without the strong musical connection, my personal relationship with Barbara started disintegrating and unraveling.
Are you still in touch with Barbara?
A little bit. We have a son together, so it's important that we maintain some kind of contact. She's been to Germany a lot lately and she's really finding her own way. It's taken her deeper into her music and farther away from it at times. Our lives have taken us far from each other and I think it's been real important for her to divorce herself as much as possible from the past and from Timbuk3 in order to find her own voice. She has a voice, but it can get cluttered with the past. She can easily get weighed down by the past if she allows it to invade her life. I'm a little more embracing of the past as far as the musical past goes. It's my body of work and I'm not going to divorce myself from it. When we were together, I was more wanting to get away from a lot of the past. A lot of the chains of expectation were coming from the past.
I don't think Barbara realizes how important her contribution to Timbuk3 was and how much of a product it was of who she is, just as much as me. I think she thinks "Oh, that was pAt's thing and that wasn't me." She distances herself from it, Barbara gave me all of her archives, except for a few souvenirs she wanted.
I understand there's a lot of unreleased Timbuk3 material still in the vaults.
Yeah. It's all in storage and I've got all of it. There is a lot of stuff. At the time, when that stuff was newer, we really only wanted to release the stuff that would have the best chance of sustaining our career. Having our own studio, we produced a lot of stuff that never got released. It would be a monumental job to put together any of that stuff for release. Somehow, I think it will fall on me someday, but hopefully by then, I will have people to help — assuming there's even a need for that or any interest in it. I'd like to see that stuff come out somewhere. I still remember the joy of discovery in coming up with some of that stuff. It'd be fun to see what could be put together — the best of the unreleased stuff. I have a funny curiosity about it.